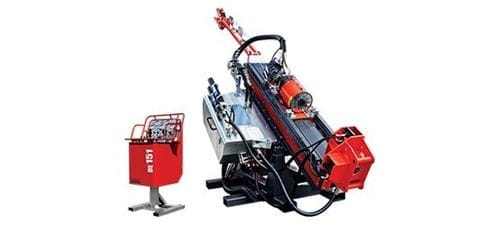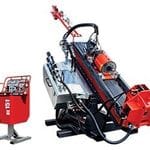 DE151 Compact Core Drill Rig
Item Code:
DE151 Compact Core Drill Rig
DE151 is the most powerful H size underground drill rig in the DE100 series. Boasting a unique combination of size and capability, it features the highest feed and pull capacity in its class and in relation to its weight and size.
DE151 is easy to operate and maintain. It boasts class leading rotation speed and torque and infinitely variable rotation speed between 0 and 1,100 rpm. The chuck is closed by spring action and opened hydraulically.
Advantages
DE151 steel feed boom is fitted with a rod spin guard to provide maximum safety close to rotating rod string
DE151 control panel provides central control of all drilling operations
The feed boom is comprised of a stiff and resistant steel profile with a direct coupled feed cylinder that eliminates the need for feed chains
Technical data
Depth capacity* (N) 1,945 m (6,381 ft)
Rotation unit (hollow spindle ID - H size) 103 mm (4 in)
Maximum torque 2,000 Nm (1,475 lbf/ft)
Maximum rpm 1,100 rpm
Feed force 147 kN / 15 t (33,000 lbf)
Pull force 147 kN / 15 t (33,000 lbf)
Feed length (stroke) 1,700 m (5 ft 7 in)
Power unit - electric 110 kW (150 hp)
Power unit - diesel 168 kW (228 hp)