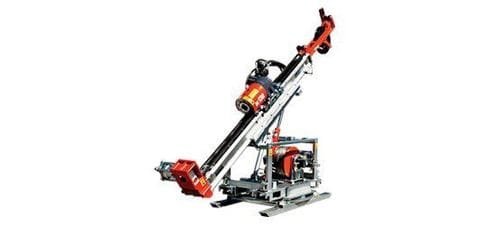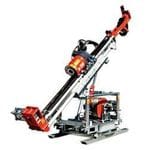 DE130 Compact Core Drill Rig
Item Code:
DE130 Compact Core Drill Rig
DE130 is the most cost effective drill in the DE100 series, designed for underground core drilling applications. Through continuous development with our customers, we have redesigned, modified and improved the DE130 over the years to become the versatile model it is today.
DE130 has proven its performance in a range of applications that include underground core drilling, dam reinforcement, geotechnical drilling for tunnel boring and surface exploration.
Advantages
The load sensing hydraulic system that enables directly proportional oil flow, optimizing power efficiency
The drill also includes a mechanical feed boom slide that enables lineal movement of the feed boom to contact the ground
When you need extra power a high torque N-size rotation unit option is available to meet your specific requirements
Technical data
Depth capacity* (N) 815 m (2,674 ft)
Rotation unit N size
Rotation unit H size 77 mm (3 in) 103 mm (4 in)
Maximum torque

(N high speed) 550 Nm (406 lbf/ft)
(N high torque) 800 Nm (590 lbf/ft)
(H) 940 Nm (693 lbf/ft)

Maximum rpm

(N high speed) 1,600 rpm
(N high torque) 1,100 rpm
(H) 1,100 rpm

Feed force 46.1 kN / 4.7 t (10,360 lbf)
Pull force 61.5 kN / 6.3 t (13,820 lbf)
Feed length (stroke) 1,700 mm (5 ft 7 in)
Power unit - electric 55 kW (75 hp)
Power unit - diesel 92 kW (125 hp)