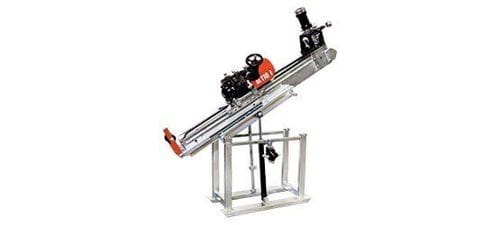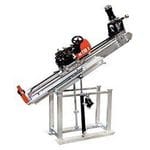 DE110 Compact Core Drill Rig
Item Code:
DE110 Compact Core Drill Rig
DE110 is the most compact member of our DE100 series. Designed as a portable drill for 46 mm (1 ¾ in) or A-size exploration, grade control and grout-hole drilling. DE110 is also well-suited for rock or concrete sampling with a maximum hole size of 116 mm (4 ½ in) to depths of 30 m (100 ft). This drill will deliver you equally reliable results in both surface and underground applications.
Advantages
DE110 is a truly lightweight drill with a rig weight of only 297 kg (655 lb) including feed boom, rod, holder, rotation unit and mounting frame
DE110 was designed to ensure quick and easy setup at your site
Accessible for quick servicing
Torque and rpm can be adjusted to suit rock formation
Technical Data
Depth capacity* (A) 230 m (755 ft)
Rotation unit (hollow spindle - ID) 51 mm (2 in)
Maximum torque 170 Nm (125 lbf/ft)
Maximum rpm 1,700 rpm
Feed force 16.8 kN / 1.7 t (3,770 lbf)
Pull force 10.7 kN / 1.1 t (2,400 lbf)
Feed length (stroke 800 mm (31.5 in)
Power unit - electric 15 kW (20 hp)
Power unit - diesel 27 kW (37 hp)