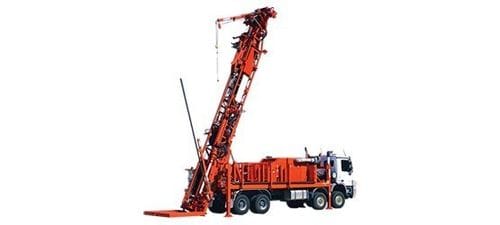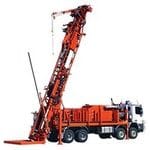 DA555 Rod Loader
Item Code:
DA555 Rod Loader
Drillman DA555 rod loader reduces lifting of drill rods and is designed to enhance safety, productivity and reliability. Its design is based on the proven and reliable Drillman DA554 rod loader.
Our Drillman DA555 loads diamond core and reverse heavy circulation drill rods remotely, keeping the operator at a safe distance of 50 m. Simple to operate and easy to learn, it's ideally suited for both coring and RC applications.
Drillman DA555 is mounted on the mast keeping a small operating footprint for the rig.
Advantages
Loads diamond core rods and RC rods with the one rod loader
Reduces manual lifting of heavy drill rods
Reduces fatigue in rod-handling operations
Remote hands free rod loading system integrates with the Drillman hands free breakout tool
Safer rod loading operations
Cup design uses gravity and clamping force to ensure excellent inherent safety
Technical data
Cup jaw holding torque 3,500 Nm (2,580 lbf/ft)
Diamond core drill rod diameter N, H, and P sizes
Diamond core drill rod length
Reverse circulation drill rod diameter

73 mm (2 7/8 in.)
76 mm (3 in.)
89 mm (3 1/2 in.)
102 mm (4 in.)
114 mm (4 1/2 in.)

Reverse circulation drill rod length 6 m (20 ft)
Reverse circulation drill rod weight 200 kg (441 lb)
*Calculations are based on machine lifting capacity, which in some cases may exceed the rated hole depth of the down-hole tooling. Drillman does not guarantee that these results will be achieved in all drilling operations.